Hello everyone (^-^)/
Today I want to show you the mani I had while in Germany. Since it was the first time I had some
KIKO
and
P2
polishes, I wanted to try them out.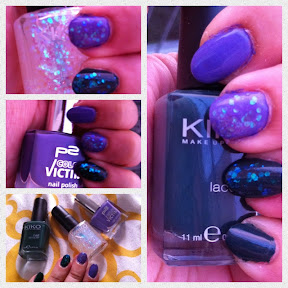 I used
Kiko 347
, a beautiful forest green and
P2 Poetic
, a pretty purple. For a bit of a twist I used
Kiko 270
on a couple of nails.
Although it was a simple look, I got a lot of compliments.
My friend T-chan loved it so much that she wanted it on her nails too but in pink and red. So I used
Essence
Flamingo Rose and Divalicious Red instead.
What do you think? (^∇^)
Posted from my iPhone
You have read this article Essence / flakies / green / Kiko / P2 / pink / purple / red with the title Forest green and purple nails with a bit of sparkle. You can bookmark this page URL http://dizzymisslizzi6.blogspot.com/2011/08/forest-green-and-purple-nails-with-bit.html. Thanks!